snyderwrites,
Anybody with me on that?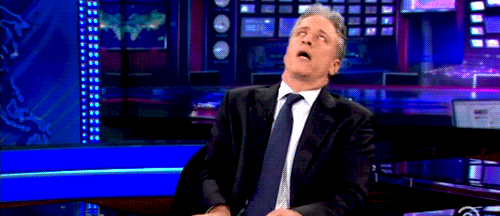 I'm trying to build a following, while trying to write books, while editing my stories, while managing my twitter, pinterest, tumblr, reddit, instagram, and facebook accounts. It's just too much. My other problem is that I just don't know how to use them all effectively. I need a social media manager, or at least a teacher.
While this is going on, people are constantly asking me to 'like' their stuff–pages, blogs, etc. The majority of them do it without any intention of following or reciprocating, despite their DM's to me–>
Hello Morgan! My name is Mbosa Karini. Please like my page, 'The One with the Soul-less Eyes". It's my new horror novel. You can buy in on Amazon now for $15! 
What on earth?
I'm feeling a lot like Jon Stewart here.
To all my writer friends, artists, and bloggers, how do you do it all? How to you hold up all of the metaphorical plates? Please share with me your secrets in the comments because
I'm going crazy here.
In Other News
Thought up a fun idea for another blog/website–Cuento (pronounced Kwen-toh). It means story in Spanish. I thought it might also make for a great app too, but I have no idea how to do that.
It's basically a collaborative for creative minds. 'For the People, By the People'. Illustrators, writers, artists, musicians would all be invited to share their stories, work, projects, and make a huge database of creativeness! I know that other social media platforms do this. It's not an entirely original idea. But! Wouldn't it be fun to have a funky-fresh corner of the internet where free expression without politics, hate, or raining on everyone's parade,  grew organically and beautifully. What a pipe dream…
G2G. TTYL. BRB. LOLZ. Missing me some AIM right about now.